Bespoke Steel Frame Workshops for Multiple Uses
The world of work is changing in the UK, and the past year seems to have accelerated the process. Whilst the urban hub remains a primary locus for traditional employment, more and more people are choosing to live and work outside major cities. Rather than spending time each day commuting into work, they're creating their workplaces where they live. For many of them, steel frame workshops are central to their home-working ambitions.
Integrity Steel Buildings is no stranger to requests for bespoke workspaces designed for home-working. As well as providing steel portal frame buildings for MOT Stations and HGV maintenance workshops, we've also created home offices, shooting ranges and pottery sheds. The multiple design combinations we offer, and the fully insulated option for all our steel buildings, make the home-working environment an easily attainable aspiration.
Why Steel Workshops are a Great Choice
Whatever you need a workshop for, you'll find that a steel framed building can offer you the ideal conditions for your space. Integrity clients regularly name the following 5 benefits in their feedback:
A Secure Space. Steel may be a lightweight metal but it's also incredibly strong. Which is good news if you need to store computers or expensive equipment. The combination of a resilient material with reinforced windows and doors provides a reassuringly safe workspace for business owners.
An Any Weather Space. Your workspace needs to offer a comfortable environment throughout the year. Insulated cladding panels ensure that heat doesn't escape from the building during the winter, and that the interior remains cool in the summer. We can also add extra windows to provide maximum doses of natural light.
Flexibility Built In. How often do you get the chance to create your perfect working environment? That's what the design team at Integrity offers clients. If you're just starting out, we can build in the potential for expansion. If you need special features such as an inspection pit, or ventilation for a kiln, we'll include them.
Build It Yourself. An Integrity steel frame workshop is designed, cut and delivered flat pack. Everything you need to build it is included. If you can provide the labour, assembling your workshop a quick job and it's in your control. So you can set the deadlines, and the budget. Best of all, you'll have a new workspace at an extremely affordable rate.
Lightweight Construction. A steel workshop is 30% – 50% lighter than its wooden equivalent. It's fire resistant, mould resistant, and keeps out pests and vermin. Steel isn't likely to rust but the application of an anti-corrosive steel coating will enhance its moisture-resistant properties.
---
Integrity Designs Steel Workshops
Perhaps the most daunting aspect of creating a bespoke steel workshop  is deciding on the design. Which is where Integrity Steel Buildings comes in. Whatever your business requirements, our design and consultancy team will work with you to create a building that meets your specific needs. The range of options we offer our clients includes:
Steel sliding doors
Industrial roller doors
Dividing walls
Roof ventilation
A range of window styles
Apex or mono pitch roof
Insulation
Custom colour choice
Whether you're looking to open a golf range or bake bread, Integrity guarantees an affordable solution, providing the bespoke workshop you need to grow your business.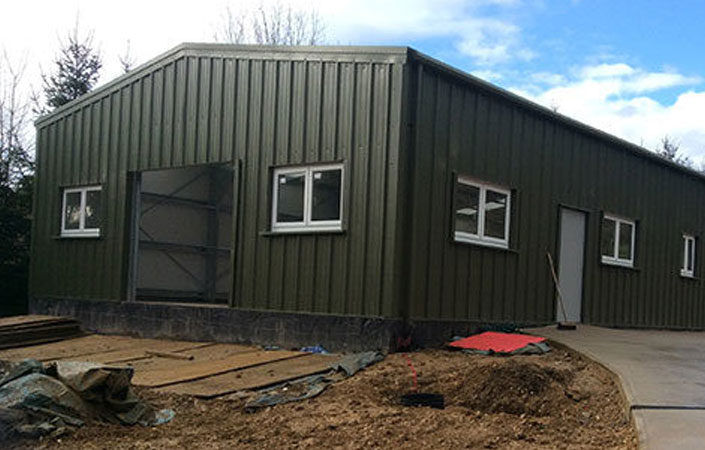 Constructing a Steel Frame Workshop
An Integrity steel workshop fits perfectly into the ethos of independence associated with creating a home workplace. Integrity Steel Buildings designs are manufactured to clients' specifications. The pre-fabricated structure is delivered as a flat pack ready for construction. This includes a build manual, architectural drawings, and a load list. You are free to choose how much you spend on the construction – from doing it yourself, to buying in someone to build it for you.
Alternatively, you could let the Integrity team handle the whole process from design through to fit out. Our comprehensive package ensures project management at every stage. This guarantees speedy construction, with minimal disruption, and a high quality result ready for you to move in and start work.
Do I Need Planning Permission for a Steel Building?
At Integrity we always advise our clients to contact their local authority planning department to talk about their plans. Having this conversation early on often provides a clear indication of whether or not planning permission is required, and whether it would be granted. In some regions you can make a pre-application to gauge whether or not you'll be successful.
Planning permission is normally required for any commercial building that exceeds a height of 4 metres. Some industrial buildings are exempt as the result of 'Permitted Development Rights'. If you do need to apply for planning permission, Integrity can supply architectural drawings, structural calculations and any other documents to support your application.
Ready to Start Work on Your Steel Framed Workshop?
If a steel framed workshop sounds like the ideal solution for setting up your work environment, we make it easy to get started. Our FREE quotation service begins with a no obligation site survey or a telephone survey. Integrity currently has an office based in Bedfordshire which serves the south east. Whatever your business aspirations, Integrity provides an affordable way to achieve them.
Looking for a steel workshop to house your new or established business? Call Integrity Steel Buildings today to get started on your bespoke design – 01234 938 150